To the Parent of a Child with Social Anxiety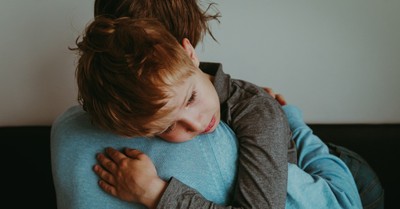 By Laura Spurlin, Crosswalk.com
Growing up, I was very social and never met a stranger. If my parents were talking to someone, I would be joined at their hip, waiting for that person to acknowledge me. I was not a child who struggled with social anxiety. But, social anxiety found me later in life. Although I hated it (and still do), it is a blessing in disguise. As a mother of a socially anxious child, I believe the Lord prepared me for the moments I would face with my child. As an adult with social anxiety, I was able to personally understand my daughter's fears and navigate them alongside her. And for that reason alone, I am thankful.
Whether you struggled with social anxiety as a child, as an adult, in both stages of life, or you have never struggled with social anxiety, there is space for you here. This is a conversation that we all can grow from. As a parent, our greatest desire is to lead our children to Christ, keep them safe, and care for them to the best of our ability. It is hard to care for our children when they struggle. We want to fix the problem and not see them struggle. Other times, we just wish that they would get over it. We want to be the hero that swoops in and makes everything okay. But, that is not always possible. We are limited in our own abilities. But, at the end of ourselves, we see our true, desperate need for our Savior.
This circumstance reminds me of Moses' response when the Lord called him to lead His people out of Egypt. Moses protested and pleaded with God to choose someone else five different times. God could have easily moved on and chosen another person, but Moses was the man God had called for this task. God saw the leader in Moses that Moses could not see in himself.
This Bible story shows a lack of self-confidence in Moses, but I also get the impression of social anxiety. Social anxiety is more than just being shy. It is defined by the National Institute of Mental Health as "A person with social anxiety disorder feels symptoms of anxiety or fear in situations where they may be scrutinized, evaluated, or judged by others." Each of Moses' responses to the Lord exhibited a fear.
Fear of his inability:
""Who am I to appear before Pharaoh? Who am I to lead the people of Israel out of Egypt?" (Exod. 3:11)
Fear of being judged and scrutinized:
"If I go to the people of Israel and tell them, 'The God of your ancestors has sent me to you,' they will ask me, 'What is his name?' Then what should I tell them?" (Exod. 3:13)
Fear of the Lord's message spoken through him being doubted:
"What if they won't believe me or listen to me? What if they say, 'The Lord never appeared to you'?" (Exod. 4:1)
Fear of his inability to articulate the Lord's message to His people:
"O Lord, I'm not very good with words. I never have been, and I'm not now, even though you have spoken to me. I get tongue-tied, and my words get tangled." (Exod. 4:10)
Fear of doing the hard thing:
"Lord, please! Send anyone else." (Exod. 4:14)
Like God, we see the potential in our children that they cannot see. We wish we could reassure their fears away so they would do what needs to be done in the face of their fear, but there is no amount of pressure on our end that will make their fears go away. We can learn a lot from the way God responded to Moses in these moments.
Let's discuss what God provided Moses in his time of fear and uncertainty:
His Presence
"God answered, "I will be with you." (Ex. 3:12)
We can promise our children that the Lord is with them. They are not doing the hard things alone. I often tell my daughter that in those moments when I am not there, who is? "Jesus!" And who is helping mommy and you when we are together? "Jesus!"
The Answer to Respond to the Israelites
God replied to Moses, "I AM WHO I AM. Say this to the people of Israel: I AM has sent me to you." God also said to Moses, "Say this to the people of Israel: Yahweh, the God of your ancestors—the God of Abraham, the God of Isaac, and the God of Jacob—has sent me to you." (Ex. 3:14-15)
We can provide our children with answers. Examples: Who is going to be there, how long this moment will last, or where you will be during this moment.
3 Miraculous Signs
God gave Moses 3 miraculous signs to perform to resolve his fear of doubt: "then they will believe that the Lord, the God of their ancestors—the God of Abraham, the God of Isaac, and the God of Jacob—really has appeared to you." (Ex. 4:5)
Help your child develop tools to help them in the moment. Examples: deep breaths, think of different topics your child could discuss with others, or remind them who God says they are.
Assurance
God assured Moses that His message would be delivered through Moses
"Who makes a person's mouth? Who decides whether people speak or do not speak, hear or do not hear, see or do not see? Is it not I, the Lord? Now go! I will be with you as you speak, and I will instruct you in what to say." (Ex. 4:11-12)
Reassure your child that God will see them through this moment. We can do all things, anything and everything, because Christ is our strength (Phil. 4:13). If we keep our eyes on Him, He will direct our path and give us the words to say.
A Helper
God gave Moses a helper, his brother Aaron, to overcome the hard thing.
But, not only did He give him a helper, He promised that He would be with them both. No matter what, the Lord would be with Moses.
"Then the Lord became angry with Moses. "All right," he said. "What about your brother, Aaron the Levite? I know he speaks well. And look! He is on his way to meet you now. He will be delighted to see you. Talk to him, and put the words in his mouth. I will be with both of you as you speak, and I will instruct you both in what to do. Aaron will be your spokesman to the people. He will be your mouthpiece, and you will stand in the place of God for him, telling him what to say." (Ex. 4:14-16)
God gave your child a helper, YOU! You are the hands and feet of Jesus for your children. But, just as the Lord is present for your child, He is also present for you. He will instruct YOU, and He will instruct your child. Tensions and impatience may flare. As you can see in the above passage, even God became angry with Moses' persistent pleading, but in the presence of our emotions, the Lord will direct our efforts to help our child and bear His image.
Mama, Dad, Grandma, Grandpa, Brother, Sister, Aunt, Uncle, Guardian, or Friend – you are doing your best. In those moments that you are reassuring your child to walk into a room full of people, to step foot on the stage for a performance or speech or the first day of school, the Lord promises:
to go before you and be with you (Deut. 31:8),
to be your strength (Phil. 4:13),
to make a way (Isa. 43:19),
to lead you, (Ps 32:8),
and to know circumstances will try to overtake you, but you will not be destroyed. (Isa. 43:2, 54:17)
You are fulfilling hard and holy work. Moment by moment, we have the choice to be His hands and feet. We will fail, make mistakes, push too hard, give in too soon, or lose our cool. Despite your human abilities, the I AM, our Lord and Savior, can and will use you in the difficult moments of your child's life.
Photo Credit: ©Getty Images/Nadezhda1906
Laura Spurlin is a Christian, wife to her high school sweetheart, mama to her kiddos, nurse, and writer that has a passion for sharing what the Lord puts on her heart about motherhood, mental health, and all things in the Word of God.