When Your Child Asks Questions and You Don't Have Answers, Try This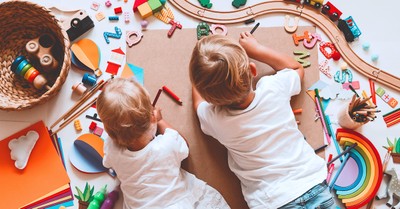 By Laura Spurlin, Crosswalk.com
I can remember impatiently waiting for my children to talk. I could not wait to have conversations with them, understand what they were feeling beyond the crocodile tears, and just hearing what their voices would sound like. Fast forward five years, and I wonder why I was so excited for them to talk. Kidding, kind of. In our home, conversations are going on frequently. Sometimes it is loud, ear-piercing shrieks while playing, angry outbursts, the tune of their favorite song blaring from their vocal cords, or the sweet conversations between all the stimulation. My favorite, and not-so-favorite at times, is all the questions. I love my child's passion for learning new things and truly understanding, but there are so many questions:
"Why is the sky blue?"
"Why do I have to go to school?"
"Why do I have to wash my hands?"
"Why do I need sunscreen?"
"Why is thunder so loud?"
These are some of the questions we can easily come up with an answer to or a simple Google search can answer. The hard questions that we do not know the answers to, well, those can be heavy:
"Why can't I see God?"
"Why do people have to get sick?"
"Why did our dog die?"
"How do I know you will always be here for me?"
"How do we travel to heaven? It's on a plane, right? I hope it's on a plane."
Before my kids could talk well, I welcomed all the questions and all the ways that I could help them better understand the world around them and how this world came to be at the hands of our amazing God. But these questions that I do not know the answers to can tug at the strings of your heart. As a parent, we want to be able to give them that comforting and assured answer. We want to help our kids understand and alleviate their worries and fears in the process. But sometimes, a lot of times, we can't. So what do we do?
We point our kids to Jesus.
Of course, but how do we do that? I am a firm believer that any situation, circumstance, or question can be an opportunity to point our kids to the Father.
We Turn to His Word
In this day and time, we can search the internet for an answer to just about any question. A simple Google search, a thorough search of someone's profile page whose opinion we value, searching the highlight reels of social media, or looking it up in a textbook. We have so many avenues of information right at our fingertips, but we can find the answers and the hope we are searching for when we search the scriptures.
"Your word is a lamp to my feet and a light to my path." Psalm 119:105 ESV
The Word of God is our guide, our tool, our weapon. It is a lamp to guide our feet and a beacon of light to shine on our path. We don't have to wait to search the Word of God just on Sunday mornings and Wednesday nights; we can search the scriptures in our living room, on the back porch, or on a vacation miles away. When questions arise that we do not know the answers to, we can seek to find the answers in the Word of God. I encourage you not to just find the answer on your own but set out to find it with your child. When our kids see us search the Bible for answers, they will see where our hope comes from. Our Bible is a tool for us to use daily. I challenge each of us to not just read it but to study the Word so that we may be equipped for every good work.
"All Scripture is breathed out by God and profitable for teaching, for reproof, for correction, and for training in righteousness, that the man of God may be competent, equipped for every good work."
2 Timothy 3:16-17 ESV
We spend time in prayer. Sometimes, the answer is just not clear or the answer is not what we, or our child, want to accept. We must remember that all things work together for the good of those who love Jesus, but we need further help understanding.
"Call to me and I will answer you, and will tell you great and hidden things that you have not known."
Jeremiah 33:3 ESV
This verse is a comforting reminder that we must call on the name of the Lord and He will answer us. Prayer is our direct connection to the Father. And, thankfully, we can call on Him anytime—day or night. He is not the friend who will become annoyed with our constant seeking. He is not the friend who will ignore our phone call because He is too busy. He is not the friend who will appear to be invested, but really doesn't care. And for the sake of our children, He is not the parent who is exhausted from constantly being needed. He is waiting, willing, patient, and understanding.
When our kids see where our help comes from, they will know where to go when they need help. Our kids are going to have questions even when we are apart. They'll have them lined up to ask us as soon as we see them after school. What could we do to help them in those moments that questions arise? We can encourage them to pray. Praying with our children is an invitation to lead our children into conversation with God. He yearns to hear their voices calling out to Him, but they don't know how to pray until they learn.
We Surrender in Worship
Have you ever sat down to read your Bible, and it just feels so overwhelming? It's hard to focus on the words right in front of your face because your mind is racing. You are lifting your cares to His ears, but the words don't seem to come out just right. Maybe it's just me, but sometimes the weight of unknown answers feels overwhelming and heavy. This is the moment where my worship intercedes and links me directly to the Father. The weight of my defeat and doubt rises from my chest as my hands lift in praise. God can speak to us through our worship. Can you even imagine the worship displayed by Paul and Silas in prison?
"About midnight Paul and Silas were praying and singing hymns to God, and the prisoners were listening to them, and suddenly there was a great earthquake, so that the foundations of the prison were shaken. And immediately all the doors were opened, and everyone's bonds were unfastened." Acts 16:25-26 ESV
Their feet were bound in stocks so that they could not escape the prison they were placed in, but their immobility in their circumstance did not change the way they praised and worshiped the Lord that night. Our song of praise, lifted to the Father with an open, willing heart, can break the strongest of bonds in our circumstances.
We Seek His Presence
Our children look to us to have all the answers. "But, you know everything, mom!" This phrase is like a resounding gong to remind us that we actually don't know everything, but we are in the presence of the One who does.
"Great is our Lord, and abundant in power; his understanding is beyond measure." Psalm 147:5 ESV
His understanding and knowledge are boundless. He is all-knowing, so why would we not run to His presence in all things? He is present in the details, in the mundane, in the moments when we feel so helpless. There is nowhere that we can go to escape His presence. Praise the Lord for that! We can admit to our children that we don't, in fact, know everything. The world will continue to spin despite this confession. And this leads the way for introducing our children to the One who does know it all. It allows us to place the power and authority where it belongs, in Christ alone. There is nothing like the tearful cries of a child or teenager who just cannot seem to understand their unanswered questions, but the Lord never meant for us to have all the answers. He meant for us to lean into Him and point our children to His presence.
Yes, spoiler alert, I did not give you a top-secret binder that lists each and every answer we will ever need, but I hope you will receive more than just answers. My hope is that you find the peace of God in the unknown, the unanswered, and in the moments where the Lord uses us to point our children back to Him.
Photo Credit: ©GettyImages/NataliaDeriabina
Laura Spurlin is a Christian, wife to her high school sweetheart, mama to her kiddos, nurse, and writer that has a passion for sharing what the Lord puts on her heart about motherhood, mental health, and all things in the Word of God.