Change the Climate of Your Marriage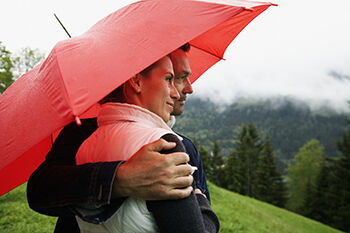 By Whitney Hopler, Crosswalk.com Contributing Writer
Focus on communication. The single greatest factor that influences what your marriage conflict is like is how you communicate with your spouse. More than what you say and do, it's how you say and do it that affects your relationship with each other the most. Your communication climate can change throughout different seasons of how you communicate, depending on the value and satisfaction you and your spouse feel as you interact with each other. So to improve your marriage climate, it's important to improve the way you and your spouse communicate.
Acknowledge each other. Seek your spouse's perspective on the various situations you encounter and the different issues that you discuss. Even if you don't condone or agree with your spouse's perspective, get to know it and try to understand it. Give your spouse your undivided attention when he or she is sharing thoughts and feelings with you. Ask questions to clarify and learn more. Ask God to remind you regularly of ways that your spouse reflects His image.
Build trust between each other. Do all you can to live with integrity so your spouse can trust you. Tell the whole truth in all situations and follow through on your promises. If trust has been broken between the two of you, realize that the process of re-building will be slow and gradual, but make the effort one step at a time.
Adjust your expectations. Talk openly with your spouse about what you each expect your marriage to be like, and why. Define what counts as expressions of love, respect, spirituality, romance, responsibility, and other issues that matter in your marriage, learning what's most important to each of you. Use the knowledge you've gained to adjust your expectations of each other.
Strengthen your commitment. Ask God to help you and your spouse remain committed to your marriage and continue to mutually invest in it. If either you or your spouse harbors any nagging doubts that your marriage will survive, those doubts will negatively affect your marriage climate. But the security of knowing that you both are truly committed to each other will improve your marriage climate. Remember key moments of your shared history together, and put energy into your present relationship to make new memories together.
Resist cultural temptations that can harm your marriage. Rather than rushing around in a constant state of hurry, trying to accomplish multiple tasks at once, slow down to give your spouse your full attention when you're interacting. Instead of adopting a consumerist attitude that breeds dissatisfaction, ask God to help you become content with your lifestyle, and remember that your spouse is more important than material things or status. Reject an overly romantic view of love and marriage and realize that only God is capable of loving you perfectly, so don't put too much pressure on your spouse and accept his or her imperfections. In the face of a culture where divorce is commonplace, renew your resolve and efforts to making your marriage last.
Talk supportively. Ask God to help you speak positive words that convey support to your spouse and avoid speaking negative words that discourage your spouse. Keep in mind that God gives you grace every day, and let your gratitude for that gift motivate you to give your spouse grace in the conversations you share.
Take a climate reading before discussing a key issue. Don't just jump into serious discussions about key issues. Instead, make sure that your current marriage climate can support the stress of difficult conversations before starting them. When the climate is right, your discussions will have a better chance of being productive than if you and your spouse talked at the wrong time. If you need to improve your marriage climate, call a marital truce, temporarily avoiding controversial issues and overlooking each other's offensive actions so you can strengthen your relationship.
Deal with conflict wisely. Recognize that conflict is a normal part of every marriage, and that your marriage climate can improve as you and your spouse deal with conflict and invite God to strengthen you both in the process. Pray against evil spiritual forces that cause tension in your relationship. Seek to understand how both you and your spouse feel about each conflict you engage in, listen well, speak the truth in love, and seek solutions that will benefit both of you rather than just one of you.
Forgive each other. Let your gratitude for how much God has forgiven you motivate you to obey His command to forgive your spouse when he or she hurts or offends you. Rely on God's help to get you through the forgiveness process. If abuse is involved, be willing to forgive, but also get out of unhealthy situations so you're not subjected to any more abuse. Trust God to help you overcome any obstacle you might encounter, because of His great power and love for you.
Keep strengthening your communication climate with God. Remember that you must be in a close, loving relationship with God to be able to truly love your spouse well. Stay close to God through regular prayer and other spiritual disciplines so you can enjoy a great climate in your relationship with Him that will impact your marriage climate too.
---
Adapted from Marriage Forecasting: Changing the Climate of Your Relationship One Conversation at a Time, copyright 2010 by Tim Muehlhoff. Published by InterVarsity Press, Downers Grove, Ill., www.ivpress.com.
Tim Muehlhoff (Ph.D., University of North Carolina at Chapel Hill) is an associate professor of communication at Biola University in La Mirada, California where he teaches classes in family communication, interpersonal communication and gender. Tim is the coauthor of The God Conversation: Using Stories and Illustrations to Explain Your Faith and Authentic Communication: Christian Speech Engaging Culture. He and his wife, Noreen, are frequent speakers at FamilyLife Marriage Conferences, and Tim has served with Campus Crusade since 1986. They live in Brea, California, with their three boys. Tim has written about God, communication and faith in diverse publications such as the Journal of Religion and Communication, Journal of Social and Personal Relationships, Mars Hill Review and Discipleship Journal.
Find this article at: http://www.crosswalk.com/marriage/11642555/